Gaming Influence: Super Mario Bros.
Hello everyone, this is Vaude Influence.
Welcome to the first edition of Gaming Influence where I review video games from old to new to show people the good games, the bad games, and games that people don't even know existed.
I hope you enjoy this series as much as I do so let's get to it!
---
Super Mario Bros. (NES)
Super Mario Bros. has been an iconic game for the past three decades and it's still played to this day.
What makes this game so popular than what it is? How is this game still being played despite being three decades old?
Well, I'm going to give you that answer right now. Starting with the game's background.
---
Background Information: This game was first developed in September 13, 1985 where it started out in arcades, but later came to Nintendo Entertainment System (NES) and it became one of the most successful games on the NES during that time. Not only did Super Mario Bros. was a tremendous success for the NES, but it also revived the video game industry in America after the crash it had in 1983.
---
Level Designs: One of the most important factors of platformers is design levels. I mean, without good design levels, the quality and presentation of the game will just be very flat with very uninteresting and bland level designs where anyone can make them.
However, with Super Mario Bros., despite being an old game, this game has many different design levels from grasslands to the underground to the water to the castles, you name it. Each level within the game has its own unique and distinct feature that makes them stand out compared to the other levels.
Despite maybe the castle levels being the same almost every single world, they do have different obstacles that differentiate other castle levels.Even though it's not the most detailed design levels ever, they have generally good looking designs, they're simple, and they're fun to play on.
9/10
---
Gameplay: Another important factor of platformers is the gameplay. I mean, imagine a game with no good gameplay, it wouldn't be a game at all, it would be just trash.
Luckily, for this game, the gameplay for this game is generally great. All you have to do in this game is just run and jump. To run, just use the D-pad on the controller and to jump, use the A button so you can stomp on those Goombas, Koopas, and other enemies you can step on, even though they are somehow the same size as Mario and he can squash them… Nintendo Logic…
Anyway, to dash, hold down the B button while running, but don't dash too much or else you will get killed by the enemies and will regret it so use the dashing wisely. Not only that, it helps you jump farther when dashing and jumping at the same time, but once again, timing is everything.
There are also power ups in this game including the Mushroom, the Fire Flower, and the Power Star. The Mushroom increases the size of Mario to make him Super Mario as it will also give you an extra life before dying where if you get hit by one, you'll just go back to regular size Mario. The Fire Flower increases the size of Mario as well as giving him the ability to shoot fireballs which is awesome. Though, Mario can somehow shoot fireballs underwater…
Nintendo Logic…
The Power Star makes you invincible for a certain amount of time where nothing can stop you! Expect when you fall into a hole…
Not only that, you can play with two players as the second player will be play as Luigi. Unfortunately, there's no split screen so how the two players work is that when Mario (Player 1) dies, then Luigi (Player 2) will play and that keeps going back and forth. Though, they should have done a split screen, but I guess they didn't have the software to do that so it what it is.
Even though the gameplay is not perfect, it's generally very fun to play and anyone at any age can be able to pick it up and have fun with it right away.
9.5/10
---
Replay Value: Super Mario Bros. have ways to make you play this game multiple times even after beating it the first time. There is a hard mode for the game where there are some changes to the levels in terms of enemies as the Goombas become Buzzy Beetles and Koopa Troopas become a lot faster.
In addition, you can also change which world to play on which is nice as you can try to finish the game in five minutes if you like. However, don't be surprised if you die plenty of times when that happens.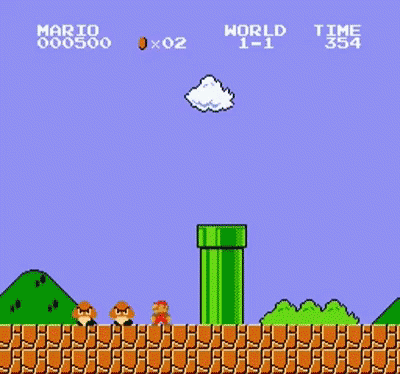 Even though there isn't much of a replay value to the game, what they have is given isn't bad and it provides a challenge for those who wanted an extra challenge and it's fun to go back to from time to time.
8/10
---
Graphics: To everyone's favorite part of a video game, how great does a game look. Of course, looking at this game and comparing it to the modern games today, it's uncomparable to the modern games.
However, for its time in the 1980s, it was a good looking game that had color, sound, and the pixelation is not bad. Granted, could it better during that time period? Probably. But for what it's worth, it's a good looking game, but later improves as time goes on.
8.5/10
---
Music: Who doesn't love good music to get you pumped up while playing a video game? Even though music may not be a huge factor towards video games, the music can set you in different types of moods depending on the beat, rhythm, and sound of the music that will either get you pumped up and excited, depressed, or just don't feel anything.
For Super Mario Bros., the music in the game is generally catchy and it really makes you get into the game with its worlds such as the Overworld theme, the Underworld theme, and the Underwater theme.
Not only that, these types of songs are very iconic that in future Mario games, they have made remixes of them. Even though these songs may sound outdated to today's music in video games, the songs still get you in the mood to playing the game and that works for me.
9/10
---
Author's Note: Special thanks to WC User Shogun Mamoru for helping with this series.

Super Mario Bros.

Summary

Despite the game being three decades old, this game still has a ton of value that makes you want to go back and play it after several years later. With their different design levels, fun gameplay, and catchy music, it's a game where either child or elder can play as it's a game for everyone to enjoy.

Therefore, I'm given this game a score of…

9 + 9.5 + 8 + 8.5 + 9 = 44/50

8.8/10 – Great

Leave your rating of the game or your review of the game up above.

Thanks for reading and I will see you in the next installment of Gaming Influence.