Gaming Influence: Suikoden
Hello everyone, this is Vaude Influence.
Welcome to the third edition of Gaming Influence where I review video games from old to new to show people the good games, the bad games, and games that people don't even know existed.
If you haven't read the other two editions of Gaming Influence, you can search it up here on this site and it will pop up. Anyway, let's get started shall we?
---
Suikoden (PSX)
Role Playing Games (RPGs) to me, is my favorite genre of video games especially Japanese RPGs.
These RPGs give you the freedom to do whatever you like…, kind of.
There are many known JRPGs, but there are some that are extremely underrated and should be played by many more players. Some of the JRPGs I will be going over aren't really well known and should be appreciated more.
The first JRPG series I will go over, the Suikoden series.
We will start with the first Suikoden game on the PlayStation (PSX).
---
Background Information: The game was first released in Japan on December 15, 1995 for the PSX. The game later got released in Japan on September 17, 1998 for the Sega Saturn.
The game eventually got released in North America in December 1996 and in Europe in March 1997.
---
Story: Just like with an action adventure game, every RPG needs an intriguing story to engage the players to keep playing.
For this game, it takes place in a fantasy world that somewhat resembles feudal China. In this fantasy world, a nation called The Scarlet Moon Empire where the capital city of Gregminster has been in peace for fifteen years since the Succession Wars.
The Scarlet Moon Empire is ruled by an emperor where he has assistance from five Generals, one of them is Teo McDohl and the Court Magician, Windy. While Teo is at home in Gregminster with his son, Tir McDohl, he been recalled to the northern lands to deal with a rebellion. As he left his home, Tir entered the service of the Imperial Forces along with his servants and serfs, Gremio, Pahn, Cleo, and his best friend Ted. As time goes on, Tir's path in life changed as he soon encountered the Rune of Life and Death (Soul Eater). Eventually, Tir learned that he is destined to become the Tenkai Star (Chief Star of Heaven), a hero that will unite the 108 Stars of Destiny in order to bring a new age of prosperity.
To me, this game has a great story that gets you into the characters, have great plot twists and turns you didn't see coming, and it may make you feel emotional while playing it too with their cutscenes.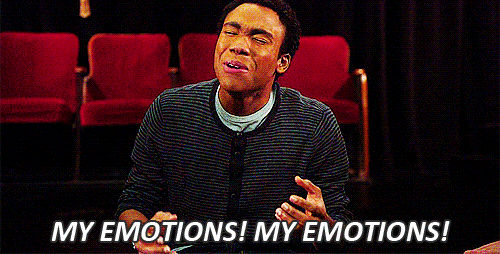 Not only that, you also have options that you can choose from that will affect the outcome of the story which makes the story even more intriguing than what it is.
For a video game in the mid 1990s, it told a great story that will get you in the mood, get invested in the characters, and make you intrigue on what happens within the plot. Some translation errors in the game, but the game has a well written story that is enjoyable for players to go through.
10/10
---
Gameplay: Suikoden has the traditional RPG style of gameplay where a player moves the characters across a 3D landscape with 2D sprites where they meet new people and engage with enemies in battle where there are random encounters so have fun deal with that. Here's an example of that type of gameplay:
The combat in this game is turn-based which gives the player an option on what actions to choose at their own pace. This game lets you have up to six party members in battle, three characters in the front, three characters in the back.
There are different types of weapons in this game, but there are three different ranges that a weapon could have in this game. Short (S), medium (M), and long (L). S weapons can only be used in the front rows while M and L weapons can be used in either the front or back row. S and M range weapons can only hit the enemies in the front row, but L range weapons can hit enemies from the front and back row. Sounds like a strategy tactic RPG if I say so myself, but it's not too difficult to understand.
Just like in your traditional turn-based RPGs, they have the fight, defend, and item commands for the player to choose from. In addition to that, there's also a command called Rune which is basically like the Magic/Skill command to use an equipped rune. A character can have use one special attack over and over again which is called ability. Magic is basically a character's level to cast Rune magic as there are four abilities for magic and the amount you can use for each spell depends on the charges that the character has with their rune level. There's also an Unite command where it combines character's combination attacks into one special attack.You can also run away from battle as well, but it will not always be successful and there's a Bribe command where you can bribe the enemies to let you escape from battle. For a weaker enemy, there's a Let Go command where you can let the enemies escape if you want, but the choice is yours.
Granted, there is an auto command called Free Will where the computer fight for you, but it will only attack with characters that are able to attack while the other characters that can't attack, defend. I personally let myself do the commands, but the auto command is there for players if they want to use it.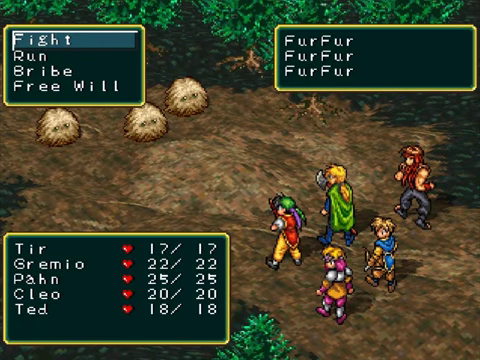 Now, that's just the main gameplay of Suikoden, but there's a battle system in the game called army battles. Army battles operate on a Paper, Scissors, Rock style where there are four options to choose from, Attack, Charge, Bow, and Magic. The enemy will also choose a command as well and whoever has the strongest attack, it will deal more damage to the enemy. Charge beats bow, bow beats magic, magic beats charge. There are also special abilities that certain characters use between rounds such as ninjas, thieves, merchants, and dragon knights.
There's also one on one duels which have the same concept as army battles as it has the Paper, Scissors, and Rock style combat, but instead of four concepts, there are three, Desperate attack, Attack, and Defend. Special attack beats attack, attack beats defend, and defend beats desperate attack. If there's a tie in attack, then both combatants suffer damage and if there's a tie in defend, then nothing happens. There are chances where an opponent will hint their next move and that's an opportunity for you to take advantage so make good use out of it.
It may seem a lot to deal with, but once you get into the game, it will be a lot easier to understand and a lot more fun to play.
9/10
---
Characters: This is something that I mentioned briefly in the story section of this review as I find it to be very important in a RPG as you need someone that you can associate within the game in order to keep investing into the story. Characters within a RPG will progress and develop during their travels to become somewhat relatable to ourselves or people we may know.
As I mentioned before in this review, the protagonist of this game is a boy named Tir, but you can name him whatever you want. Even though he's much of a silent protagonist, he's normally calm, serious, and care for others which makes you sympathize him if things don't go the way that he wants to do.
Despite this game having 108 characters, there's surprisingly some character development for each character and party member you collect in the game. In addition, there are some characters that could make your party invincible! Okay, not invincible, but very deadly to say the least. The interaction and conversations between Flik and Viktor are well written as it shows the bonds that these two guys have with each other. Kai, Tir's weapon instructor who has an unite attack with Tir which can be deadly so I suggest to use him in your party. Viki, a mysterious mage that Tir will find in a forest and asks Tir to protect her that has a mysterious and cute vibe around her that makes her adorable. There are many others that I enjoy in this game, but those are a few that I enjoy and for the rest, go play the game yourself.
Of course, there could be more development for each character in the game, but I feel like the main characters in this game are well written and that you can relate to them in some capacity.
8.5/10
---
Graphics: The graphics in this game compared to modern games today is nowhere even close. However, the graphics in this game has a certain charm to it as they use 2D characters sprites instead of 3D polygons which make the game not that outdated compared to other games in PSX.
It may not have the best graphics compared to other games in the PSX, but it has a certain charm to it and I personally like the artstyle of the game. I just wish that the North American cover of Suikoden doesn't look as strange as the Japanese cover is so much better than the North American version.
8.5/10
---
Music: The music in this game is pretty great as the soundtrack is pretty marvelous.
Granted, there are a few songs in this game that I am not a huge fan of, but that doesn't take away the fact that the music fits well within the world of Suikoden as it fits the towns, cities, dungeons, and the environment that Suikoden has.The main composer of this game is by a woman named Miki Higashino and the music that she has worked in for Suikoden is very well done within the world that is Suikoden. The other music in games that she compose include Gradius, Yie Ar Kung-Fu, Contra, Tokimemi Memorial, and the rest of the Suikoden series.
What I am trying to say is that it's a very enjoyable soundtrack if I say so myself and here's the soundtrack right here for you guys to listen to.
9/10
---
Author's Note: Special thanks to WC User Shogun Mamoru for helping out with this series.

Suikoden

Summary

Suikoden is an amazing RPG that shouldn't be ignored as it's quite valuable in terms of their story and gameplay. Even though the Suikoden series has been discontinued, hopefully, one day, we see another game within the Suikoden series as this is a series that must be played for the hardcore JRPG marks such as myself. If you are into RPGs, especially JRPGs, this is the game for you. I recommend if you want to get into the Suikoden series, either play the first Suikoden game or Suikoden IV as Suikoden IV is the prequel to the first Suikoden game. What am I trying to say is that play the series in a certain order to get the full experience of Suikoden. Either play from Suikoden to Suikoden V, or from Suikoden IV, Suikoden V, and Suikoden to Suikoden III. If you don't play this series in either of those orders, you will be confused on what's happening in the story so save yourself the trouble and play in either of those orders, it will help. If you can't find an original copy of the game for the PSX, you can download Suikoden on the PlayStation Network (PSN). So please, do it now!

Therefore, I'm given this game a score of…

10+ 9 + 8.5 + 8.5 + 9= 45/50

9.0/10 – Great

Leave your rating of the game or your review of the game up above.

Thanks for reading and I will see you in the next installment of Gaming Influence.