Gaming Influence: Tales of Phantasia
Hello everyone, this is Vaude Influence.
Welcome to the fourth edition of Gaming Influence where I review video games from old to new to show people the good games, the bad games, and games that people don't even know existed.
If you haven't read the other three editions of Gaming Influence, you can search it up here on this site and it will pop up. Anyway, let's get started, shall we?
---
Tales of Phantasia (PSX)
Another RPG series I'm going over. Last time, I did the Suikoden series by reviewing the first Suikoden game which you can read in the link below.
This time, I'm going to review a JRPG series that is still ongoing, but it's not as popular compared to other JRPG series. Which series I'm talking about? The Tales Series.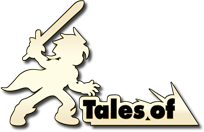 We will start with Tales of Phantasia on the PlayStation (PSX).
---
Background Information: The game was first released in Japan on December 15, 1995, for the Super Famicom (Japan's SNES). The game later got released in Japan on December 23, 1998 for the PlayStation (PSX). Five years later, the game was released in Japan on August 1, 2003, for the Game Boy Advance (GBA).
Tales of Phantasia was developed by members of Wolf Team, a studio that is originally created by Telenet Japan. After having some poor with their parent company, Wolf Team sought a different publisher for their title and they eventually landed on Namco.
The story was written by Yoshiharu Gotanda, who is the game's total programmer, and it was based on his unpublished Japanese novel called Tale Phantasia where there were changes being made from Gotanda's version of the story including the title, the character names, and some scenarios.
The character designs and artwork of the game were redone was handled by Kōsuke Fujishima.
The reception of Tales of Phantasia for the SFC has generally received positive reviews with scores being given around 7 to 9 out of 10. Readers of Famitsu magazine on an August 2003 poll say that it was their favorite Namco title of all time.While one of the reviewers from GameFan said, "that it is the best RPG I've ever played in Japanese on the Super Famicom."
The game eventually got released in North America on March 6, 2006, and in Europe on March 31, 2006.
Now, you're probably asking yourself, "How on earth did you get to play Tales of Phantasia on the PlayStation when it never came to North America?"
The answer is simple, I play the game using a PSX emulator with an English translation ISO of Tales of Phantasia.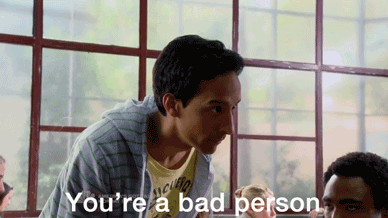 Okay, I know it's not right to do this type of stuff, but I already pay video game companies tons of money by buying their games and consoles. I don't need to pay more. I want to at least have some money left dang it!
Plus, it's not like I will get caught or anything.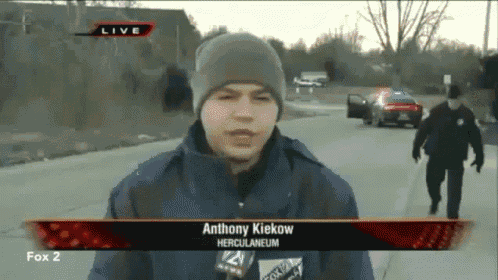 Now, you're probably asking yourself, "Why the PlayStation over the Super Famicom or Game Boy Advance version?".
Well, I'm going to answer that question while doing the review so you have to read it in order to get the answer.
---
Story: The story of this game begins with a battle between four unknown warriors facing an evil sorcerer named Dhaos as they fought for the fate of the world. The warriors ended up victorious, but Dhaos managed to escape death by going through time. However, four different heroes await him as they sealed away the weakened Dhaos by using the power of two pendants to restore peace to the world.
Ten years after the seal of Dhaos in a town named Toltus, a young swordsman named Cress Albane (Cless Alvein in the PSX translation) and his best friend Chester Burklight (Chester Barklight in the PSX translation) suffered a great tragedy as their town was attacked while they were out hunting in a forest. Every villager was killed in the attack including Chester's sister Ami Burklight and Cress' parents. As Chester mourned for the death of his sister, Cress vowed to get revenge as they decided to meet each other later in Euclid. Once Cress made it to Euclid, he was betrayed by his uncle and was thrown into jail. The pendant that Miguel Albane, Cress' father, entrusted to Cress was taken away from him as Cress will soon realize the importance of the pendant and will soon set out on an adventure to get revenge on the death of his family.
To me, this game has a great story that gets you into the characters, and it has great plot twists and turns you didn't see coming.
Now, the story has not changed much compared to the SNES and GBA version, but in the PSX version, they added skits to the game where it fleshes out the story and characters giving more back history which is nice.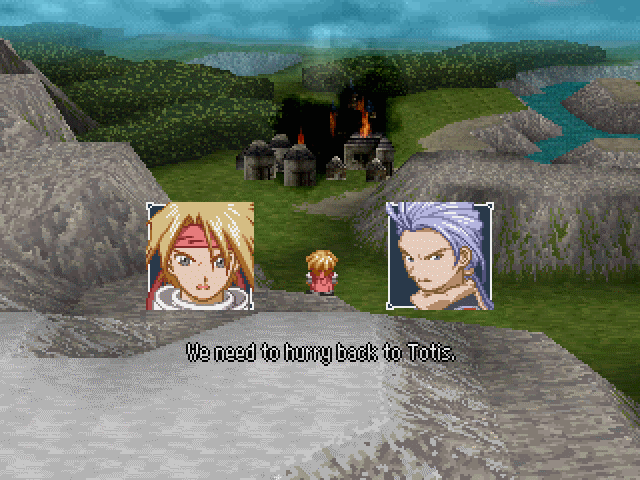 For a video game in its time, it told a great story that will get you in the mood, get invested in the characters, and make you intrigue on what happens within the plot. The fan translation that I use for Tales of Phantasia on the PSX is from Phantasian Productions where their translation is pretty accurate with a few errors, but the game has a well-written story that is enjoyable for players to go through.
9.5/10
---
Gameplay: Unlike most RPGs during the 1990s, Tales of Phantasia implemented a new battle system that changed the landscape of RPGs which is known as the linear motion battle system.
The linear motion battle system is a battle system where battles are fought on a single 2D plane with enemies that act in real time. Standard RPG features such as HP (Hit Points) and TP (Technical Points) are implemented in this game which is your health and skills bar. Commands must be inputted by either pressing buttons or selecting options via a menu. If a player starts heading towards the far left or far right of the screen, an Escape Gauge will appear at the bar needs to be filled up in order to escape from battle. For targeting enemies, the game will automatically assign the player to target a certain enemy, but that can be changed manually.
The skills in this game are called artes. There are two types of artes in Tales of Phantasia physical artes and magic artes. Physical artes only work in short or long range depending on the skill that is being used while magic artes are only limited to targets in range within the screen and when high-level magic artes are casted, all actions stopped and the animation for the spell is shown on screen.
What makes this gameplay much better than the one on the Super Famicom is that in the Super Famicom version, the player can only play as Cress, but in the PlayStation version, the player can play as any character within the party.
The gameplay on the PSX version has a better-refined battle system compared to the SFC version. It is a lot easier to control, the player can assign artes to a certain direction (Up, Down, Left, or Right) and execute them anytime and anywhere with no range frustration, and the player can link regular attacks to a base arte to an arcane arte to make large combos. In addition, the player can block, have control of the character manually, the game can be played up to four players, the player can make shortcuts to their artes to do to more artes, and they could adjust the difficulty of the game.
Compared to the GBA version and the PSX version, the PSX version totally outshines the GBA version with its gameplay as it runs at 60 frames per second with no slowdown, it can be played up to four players unlike the GBA version which is only limited to one, and the player has more button controls compared to the GBA version which the system has fewer buttons compared to the PSX.
Granted, the gameplay of the Tales series does get a lot better in future Tales games, but for its time and with it being the first game that ever produced the linear motion battle system, it was pretty successful and it is a lot of fun to play with.
9/10
---
Characters: The protagonist of this game is a young swordsman named Cress (Cless), who may be your typical protagonist in any RPG with him being kind, caring, having a great sense of justice, and a desire to do good with using a sword. However, once he faces an enemy, he becomes ruthless and unforgiving being driven by vengeance which shows a different side of him of being just a typical protagonist in an RPG.
Despite this game only having six characters (Five characters if you play the Super Famicom version), the characters are well developed in terms of their skills and personalities that made them stand out apart from the other characters within the game. Chester being a caring person to all that are in the same position as him, but hides that trait due to his brash exterior as he could be blunt and arrogant while arguing with people. Plus, he uses a bow and arrows to fight which makes the gameplay more different and unique if you play as him compared to Cress. There are other characters that have their own unique characteristics and traits, but you have to play the game to see what they are like.
Now, I wish there was more character development for Suzu Fujibayashi as she joins the game very late in the game (If you play the PSX version), but she still has some kind of personality that makes her different compared to the other main characters in the game with her being cold and unfeeling due to her following the ideals of a ninja of hiding one's emotions. Plus, she's a ninja that uses ninja artes and spells that makes her different and unique in terms of gameplay compared to Cress, Chester, and other playable characters in this game. There's more to her than just that, but I will leave it at that.
Other than that, the characters are well developed and well written throughout the course of the game that makes you relate and connect with the characters.
8.5/10
---
Graphics: The graphics in this game compared to modern games today is nowhere even close. However, the graphics in this game has a certain charm to it similar to Suikoden in a way as they use 2D characters sprites instead of 3D polygons and it is a good looking 16-bit game on the PlayStation.
Now, is there any difference between the graphics with the PSX and SFC version? Yes, there is. The PSX version has better graphics compared to the SFC version where it is more colorful and detailed. It also displays larger and more colorful enemies when encountering them in battle and the character sprites resemble more of the artwork of Kosuke Fujishima which is a nice touch.
What about the GBA version you ask? Well, the PSX version also has better graphics compared to the GBA version as the richer palette isn't washed out and it has better tile work than what the GBA version has displayed.
When it comes to graphics, it's not a bad looking game in PSX standards as it has its own charm to it and it looks a lot better compared to the SFC and GBA versions.
8.5/10
---
Music: The music in this game is amazing as the soundtrack is astounding.
The composers of Tales of Phantasia consists of Motoi Sakuraba and Shinji Tamura where Motoi Sakuraba is one of my favorite composers in the game industry as he made soundtracks for game series such as Super Mario, Tales, Golden Sun, Star Ocean, etc.
These two together put an amazing soundtrack for Tales of Phantasia that is memorable and great to listen to as it fits the world that is Tales of Phantasia.
There is not much change into the soundtrack in the different versions, but the quality and sound of the PSX version is a bit better compared to the SFC and GBA versions.
Very enjoyable soundtrack if I say so myself and here's the soundtrack right here for you guys to listen to.
Here are some of the songs from this game's soundtrack for PSX:
10/10
---
Author's Note: Special thanks to WC User Shogun Mamoru for helping out with this series.

Tales of Phantasia

Summary

Tales of Phantasia is a great RPG that has changed the world in RPGs in a way due to the implementation of the new linear motion battle system which is fun to play and it has an intriguing story that gets the players invested in the characters and the plot. Even though people prefer the other games within the series, Tales of Phantasia has a good old school feel to it and is the first game of the Tales series so without the success of this game, I doubt the Tales series would continue because of it. Now, how do you play the PSX version of Tales of Phantasia? Well, I mentioned in the beginning of the review that I play the game in a PSX emulator with an English translation ISO of Tales of Phantasia. You can find them online for free easily so it shouldn't be too hard. However, if you have a modified PSX, you can buy the English translated Tales of Phantasia game online. Don't worry, no one will never know.

Therefore, I've given this game a score of…

9.5 + 9 + 9 + 8.5 + 10 = 45.5/50

9.1/10 – Great

Leave your rating of the game or your review of the game up above.

Thanks for reading and I will see you in the next installment of Gaming Influence.