Gaming Influence: Super Mario Bros.: The Lost Levels
Hello, everyone, this is Vaude Influence.
Welcome to the fifth edition of Gaming Influence where I review video games from old to new to show people the good games, the bad games, and games that people don't even know existed.
If you haven't read the other four editions of Gaming Influence, you can search it up here on this site and it will pop up. Anyway, let's get started, shall we?
---
Super Mario Bros.: The Lost Levels (NES)
Last time, I talked about the first Super Mario game, Super Mario Bros. for the NES which you can check out in the link below.
This time, I'm going to be talking about the sequel of Super Mario Bros.
No, not Super Mario Bros. 2, but that will come in the future.
The game that I will be talking about is Super Mario Bros.: The Lost Levels.
---
Background Information: The game was first developed on June 3, 1986, in Japan for the Famicom (Japan's NES). The game was once again re-released on the Wii Virtual Console on May 1, 2007, in Japan, but also have been released in North America on October 1, 2007, and in Europe on September 14, 2007.
You don't know the frustration I have with this game every time I die as it feels like I die every five to ten seconds because the game is very challenging and very hard to beat. Despite having some frustration with the game, I can't say that the game isn't fun if you can handle dying a lot that is.
Let's get to the review.
---
Level Designs: The level designs in this game are pretty similar to the level designs in Super Mario Bros. The only difference is that Super Mario Bros.: The Lost Levels has added much more features to the level designs which makes the game much more difficult than it is.
The enemies are still the same in this game with the Goombas, Koopa Troopas, Bullet Bills, etc. However, with the Green Piranha Plants, there are also Red Piranha Plants where they are more aggressive. The Hammer Bros. are back in this game expect every time they see Mario, they come close to him so I suggest having Mario run past or kill them as soon as possible.
Sometimes, you have to time in your jump at an exact location and if you don't, Mario will fall to his death. Remember, timing is everything.
Also, they added invisible blocks. Yes, they added invisible blocks…
The ultimate troll in Super Mario, the invisible blocks…
Yeah, the addition of these features to the level designs have made this game a lot more difficult, but it gives out a fun challenge as long as you can handle dying a lot.
8/10
---
Gameplay: The gameplay for Super Mario Bros.: The Lost Levels is pretty much the same as the first game.
To run, just use the D-pad on the controller and to jump, use the A button so you can stomp on enemies. To dash, hold down the B button while running. Nothing changed in this area.
The power-ups from Super Mario Bros. are back in this game which includes the Mushroom, the Fire Flower, and the Power Star.
However, there is a new item in this game that has been added in this game.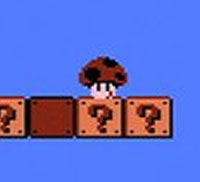 The poison mushroom. Basically, if Mario touches it, Mario will automatically die so please, don't touch the poison mushroom!
You can also play as either Mario or Luigi in this game where both characters are played completely different from each other.
Mario is the same as always, but Luigi is different. Luigi jumps higher than Mario and he slides further than Mario as well. Man, Luigi must be high or something if he can do that.
So if you want a difficult challenge than you already have, then play as Luigi, but trust me, it will be a living nightmare as you keep falling to your death in frustration.
The gameplay is still fun to play whether you play as Mario or Luigi, but playing as Luigi will make this game very challenging so the choice is yours. Either way, this game will make you rage if you die continuously, but it can be fun.
8.5/10
---
Replay Value: Super Mario Bros.: The Lost Levels gives you something special if you beat the game multiple times.
If you beat the game eight times, you will unlock new worlds, World A to D to play in. However, like I said, you have to beat the game eight times to play these worlds. Good luck because you need it.
Even though there is something special to get if you beat the game eight times, you have to beat the game eight times which is difficult to do.
However, if you can do it, you're a god of gaming.
After surviving that, have fun playing Worlds A to D because those are hard too.The reward is worth it though, I think.
8/10
---
Graphics: The graphics in this game is pretty similar to Super Mario Bros. expect with an upgraded color scheme and the text is a lot easier to read compared to the first game.
Of course, comparing this game's graphics to the modern game's' graphics is a no-brainer, but for its time in the 1980s, it was a good looking game that had color, sound, and the pixelation is not bad. For what it's worth, it's a good looking game that has made a small improvement compared to the first Super Mario Bros.
8.5/10
---
Music: The music in Super Mario Bros.: The Lost Levels is the same as Super Mario Bros. as it is generally catchy and it really makes you get into the game with its worlds such as the Overworld theme, the Underworld theme, and the Underwater theme.
Eventually, these types of songs will be in future Mario games as remixes as some of these songs are iconic throughout the Super Mario franchise. Even though these songs may sound outdated to today's music in video games, the songs still get you in the mood to play the game and that works for me.
9/10
---
Author's Note: Special thanks to WC User Shogun Mamoru for helping out with this series.

Super Mario Bros.: The Lost Levels

Summary

Even though this game isn't as fun compared to Super Mario Bros. due to its difficulty, it is a nice challenge for the players who have mastered Super Mario Bros. and wanted more. If you enjoyed the first game and want a bigger challenge, then this is the game for you. However, I would not recommend this game to casual players if you just want to play for fun. For that,  I would recommend Super Mario Bros. 2 instead.

Therefore, I've given this game a score of…

8 + 8.5 + 8 + 8.5 + 9 = 42/50

8.4/10 – Very Good

Leave your rating of the game or your review of the game up above.

Thanks for reading and I will see you in the next installment of Gaming Influence.